BarkYard® Broadcast Spreader
Every dog owner wants to give their dog the ultimate outdoor play space of lush, green lawns. But, sometimes, those furry friends take a break from the frolicking to leave yellow, brown and bald patches in your grass.

Bring your lawn back to life with the BarkYard® Broadcast Spreader. It features multiple settings for consistent and accurate application. Designed with a hopper that holds up to 5,000 sq. ft. of grass seed, fertilizer, or other lawn repair product, this spreader ensures you can quickly and thoroughly cover every inch of your lawn. All you have to do is snap the wheels onto the axle, select the right setting, fill the hopper, and you're ready to get that grass growing. A simple squeeze-and-hold trigger releases the proper amount of product for ideal coverage as you walk the length of the grass. Pair with our BarkYard® Lawn Dog™ fertilizer or the medium or large BarkYard® lawn kits for ideal results.

Get your yard in ideal shape for fetch with four-legged friends and cookouts with two-legged ones with the BarkYard® Broadcast Spreader.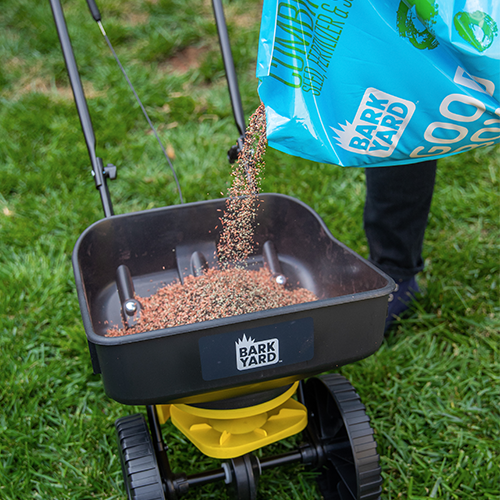 How to apply in 4 easy steps
Assemble your spreader by quickly snapping the wheels onto the axle.
On the back of your lawn product, find the setting for "Broadcast" or "rotary" spreader, then turn the rate dial on your spreader to that setting.
Fill the hopper with your lawn product. Be sure to sweep up any spills onto hard surfaces.
You're ready to apply! As you push the spreader across the lawn, squeeze and hold the trigger. Further application directions below.